WORKSHOP
Build your web (HTML,CSS basics) with We Code


When:Saturday, April 22, from 4pm to 6pm
Where: Xinfab - 665,Changhua Road, Jing'an District, Shanghai (DT Space)
Price: 100 RMB
WeCode came all the way from Bilbao, Spain to teach you the basics of web coding and its design. You will learn to create a simple website as well as learning what is behind the appearance.
Nowadays even the shifu next door has his own website and somebody who doesn't have one, in our wwworld, doesn't really exist, right! If you can't baidu/google it, can't find it! So, Xinfab and WeCode think if shifus can do it, so can you.
***Workshop in ENGLISH only (WeCode knows code, but not yet Chinese!)***
Things you should bring:
// A laptop and laptop charger
// Please install Sublime Text before you come! (download here: https://www.sublimetext.com/3)
// Your passion, curiosity, and questions
///////////////////////////////////
WORKSHOP SCHEDULE
1. Draft Design
2. HTML introduction
3. CSS introduction with colors
4. Strategic Planning Theories
5. First Prototype
///////////////////////////////////
HOW TO SIGN UP
MINIMUM 10 PEOPLE
SIGN UP DEADLINE: 2 DAYS BEFORE WORKSHOP
Scan the QR code below and pay the workshop fee as instructed: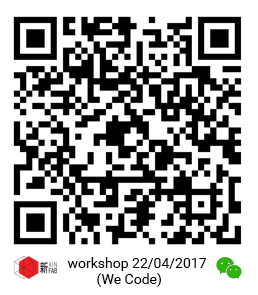 Questions? Send an email to [email protected].
///////////////////////////////////
ABOUT THE TEACHER
From Bilbao, Spain, representing We Code here in Shanghai, Ane Gil, Javier Tabernilla and Ander Sagarduy form a creative, professional and flexible team. They complement each other thanks to their different skills and give priority to well done work. They really believe teacher-student relationship is the most important, that's why they'll make sure you ace it. We Code is possible thanks to Tangram Bilbao, a company focused on innovation and business, organizational and team development created inside one of the biggest entrepreneurial community in the world, MTA.